Posts for: September, 2013
By Tamara Simons, DDS
September 25, 2013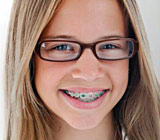 Maybe you had braces as a child, or you are thinking of having your own (it's never too late) or your child's teeth straightened through orthodontia. But how much do you really know about this branch of dentistry? Here are six questions people often ask about orthodontia.
Q. How did the word "orthodontia" originate?
A. From Latin roots meaning "straight" and "teeth"
Q. Teeth are anchored in bone. How is it possible to move them?
A. Living bone is not unchanging. The bone, ligament, and the outer layer of a tooth's root (called cementum) react to the stresses of biting and chewing. Due to this stimulation the bone is constantly being resorbed (broken down) and rebuilt as it is pushed from one side of a tooth and pulled from the other. Under normal conditions, there is a balance resulting in a steady state. Orthodontia takes advantage of this process to slowly change the teeth's position in the desired way.
Q. My dentist talks about the periodontal ligament. What does this mean?
A. The ligament is a fibrous tissue that connects the teeth to their bone and takes part in the dynamic process of resorption and rebuilding of the bone.
Q. What kinds of conditions can orthodontia correct?
A. Treatment can improve the teeth's position and relations to each other (being too crowded or badly spaced) and the way the upper and lower jaws relate. It can enhance the appearance of a person's teeth and face, and can also improve the teeth's function in biting and chewing.
Q. What is the best first step to orthodontic treatment?
A. Talk to your general dentist about your concerns. If you are referred to an orthodontist, the next step is to assess your situation using molds of your teeth that show the way the upper and lower teeth meet (your bite). Special x-rays will be taken to show the locations of your teeth and relation of your upper and lower jaw. Your dental team may also use photographs of your smile and computer imaging to get a clear view of how your teeth are now and how they may be moved.
Q. What are some of the methods of treatment?
A. In the traditional method, small metal brackets are attached to the crowns of the teeth. Thin wires, called arch wires, are strung through attachments on the brackets. These wires are used to apply controlled force to direct the teeth in the desired direction. Another method is to use removable clear plastic aligners. A series of aligners is designed by a computer, to be changed from one to the next as the positions of the teeth slowly change.
Contact us today to schedule an appointment to discuss your questions about braces and orthodontia. You can also learn more by reading the Dear Doctor magazine articles "Moving Teeth with Orthodontics" and "The Magic of Orthodontics."
By Tamara Simons, DDS
September 16, 2013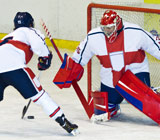 It might seem that adults who play aggressive, high-contact professional sports (ice hockey, for example) have the highest chance of sustaining dental injuries. But for many — like NHL hall-of-famer Mike Bossy — their first injured teeth came long before they hit the big time.
"The earliest [dental injury] I remember is when I was around 12," the former New York Islanders forward recently told an interviewer with the Huffington Post. That came from a stick to Bossy's mouth, and resulted in a chipped front tooth. "Unfortunately, money was not abundant back in those days, and I believe I finally had it repaired when I was 16." he said.
You may also think there's a greater chance of sustaining dental trauma from "collision sports" like football and hockey — but statistics tell a different story. In fact, according to the Academy of General Dentistry (AGD), you (or your children) are more likely to have teeth damaged while playing soccer than football — and basketball players have a risk that's 15 times higher than football players.
So — whether the game is hockey, basketball or something else — should you let the chance of dental injury stop you or your children from playing the sports they love? We think not... but you should be aware of the things you can do to prevent injury, and the treatment options that are available if it happens.
Probably the single most effective means of preventing sports-related dental injuries is to get a good, custom-made mouth guard — and wear it. The AGD says mouthguards prevent some 200,000 such injuries every year. And the American Dental Association says that athletes who don't wear mouthguards are 60 times more likely to sustain harm to the teeth than those who do.
Many studies have shown that having a custom-fitted mouthguard prepared in a dental office offers far greater protection then an off-the-shelf "small-medium-large" type, or even the so-called "boil and bite" variety. Using an exact model of your teeth, we can fabricate a mouthguard just for you, made of the highest-quality material. We will ensure that it fits correctly and feels comfortable in your mouth — because if you don't wear it, it can't help!
But even if you do have an injury, don't panic: Modern dentistry offers plenty of ways to repair it! The most common sports-related dental injuries typically involve chipped or cracked teeth. In many cases, these can be repaired by bonding with tooth-colored composite resins. For mild to moderate injury, this method of restoration can produce a restoration that's practically invisible. It's also a relatively uncomplicated and inexpensive procedure, which makes it ideal for growing kids, who may elect to have a more permanent restoration done later.
If you have questions about mouthguards or sports-related dental injuries, please contact us or schedule an appointment for a consultation. You can learn more in the Dear Doctor magazine articles "Athletic Mouthguards," and "An Introduction to Sports Injuries & Dentistry."