Posts for: July, 2014
By Tamara Simons, DDS
July 23, 2014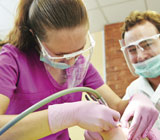 Anxiety in a child during dental procedures could interfere with the care they need. But recent advances in sedation drug therapy can calm pediatric patients safely and allow us to perform more invasive procedures without general anesthesia.
In contrast to general anesthesia, conscious sedation allows a patient to relax and feel calm while still breathing normally on their own and able to respond to certain stimuli. Conscious sedation can be deep, moderate or minimal. Deep sedation is akin to sleep and will also cause the child not to remember details of the procedure when they awaken. At the other end of the spectrum is minimal sedation, the most common type used in pediatric dentistry, which allows patients to respond to touching or verbal commands. Deep sedation drugs are usually administered intravenously, while those used for minimal sedation are administered orally with syrup. Conscious sedation doesn't prevent pain, so it must also be accompanied by local anesthesia or other pain-relieving methods.
After you arrive for your child's procedure, we'll normally conduct a pre-sedation evaluation to be sure there are no medical problems that might interfere with the sedation. We typically use Midazolam (under the brand name Versed) or Hydroxyzine (also known as Vistaril or Atarax) to achieve sedation. Both are very safe, fast-acting and exit the body quickly after treatment.
During the procedure, a designated member of our staff continuously monitors your child's vital signs, including pulse and respiration rates, blood pressure, temperature, and blood oxygen level. After the procedure your child will remain in recovery until vital signs return to pre-sedation levels. You should then take your child home and monitor them for the remainder of the day — definitely no return to school until at least the next day.
Safety is a top priority when using any sedation therapy — dental professionals follow strict procedures and protocols, as well as adhere to certification requirements enforced by many states. Performed in this manner, conscious sedation can help ensure your child's experiences in our office are pleasant, and will hopefully result in a greater willingness when they grow up to continue professional dental care.
If you would like more information on conscious sedation for children, please contact us or schedule an appointment for a consultation. You can also learn more about this topic by reading the Dear Doctor magazine article "Sedation Dentistry for Kids."
By Tamara Simons, DDS
July 15, 2014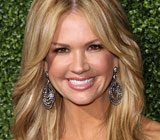 When her daughter Ashby was born in 2007, Nancy O'Dell was overjoyed; but she found the experience of pregnancy to be anxiety-provoking. O'Dell is host of the popular entertainment news show Entertainment Tonight.
After her baby was born she compiled her memories and thoughts into a book for first-time pregnant mothers. The book, "Full of Life: Mom to Mom Tips I Wish Someone Had Told Me When I Was Pregnant," covers a wide range of topics — including oral health during pregnancy.
"While my dental health has always been relatively normal, pregnancy did cause me some concern about my teeth and gums. With my dentist's advice and treatment, the few problems I had were minimized," O'Dell told Dear Doctor magazine. An example of her experience is a craving for milk that started at about the time the baby's teeth began to form. She felt that her body was telling her to consume more calcium.
As often happens with pregnant mothers, she developed sensitive gums and was diagnosed with "pregnancy gingivitis," the result of hormonal changes that increase blood flow to the gums.
"I love to smile," said O'Dell, "and smiles are so important to set people at ease, like when you walk into a room of people you don't know. When you genuinely smile you're able to dissolve that natural wall that exists between strangers."
Contact us today to schedule an appointment to discuss your questions about dental health during pregnancy. You can also learn more by reading the Dear Doctor magazine article "Nancy O'Dell."